Books: One language in the world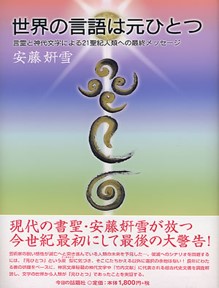 The modern calligraphy, Sei Ando, is released by the snow
First and last big warning of this century
Foreseeing the future of mankind, where the artist's keen sensibility is rushing to extinction. To avoid the scenario of ruin, she notices the archetype of "Jungian archetype"
There is no choice but to get back there!
Based on the study of books over many years, we investigated and deciphered Jindai moji and ultra-ancient historical documents represented by "Takeuchi literature", demonstrating that human beings were "the original one" from the world of characters. do.
wadaisha publication Price: 2,000 yen (tax included)
〇46 size 302 pages
〇 Many works by Keiyuki Ando are included.